Small Orchestral Ensembles
Exquisite Intimacy
Orchestral Strings, Woodwinds and Brass
Additional Thematic Instrument Sections
Designed for Komplete Kontrol
CLOSE TO THE HEART
It's great to dial things down for a more personal feel, and that's just what "INDIE" is.
The style of these intimate ensemble phrases take their lead from
modern TV drama, boutique film & independent video games
with a naked and personal sound.
SEE INDIE
Cinematic
Overview
In Details
Play Through
DAW CAST
44.1kHZ - 24BIT NCW format
24BIT - 47.000+ SAMPLES
24BIT - 62 GB Uncompressed
Custom designed interface with score display
Time Machine Pro capability
Purging system
Additional instrument groups
Randomization - whole instrument and per-section
Recorded orchestral sections:
5 recorded orchestral sections
String Quartet (4 players)
String ensemble (13 players)
Woodwinds (7 players)
Brass Quintet (5 players)
- Melodic percussion instruments : Marimba, xylophone, glockenspiel, vibraphone, crotales, upright piano, celesta, concert harp and concert cimbalom
FOR NATIVE INSTRUMENTS KOMPLETE KONTROL NKS 1.5 < & KONTAKT + KONTAKT PLAYER 5.8.1 <
Buy the Conductor Scores
INDIE Conductor Score content:
INDIE Score
1 Copy protected PDF file
251 pages (A4 format)
Full Rehearsal marks to easily find phrases from the Kontakt version.
150 dpi resolution
Covers all phrases recorded for our "Indie" library
Password to access the pdf file
This file has been locked. No copying options will be available.
This score only covers cues in the keys recorded for the product.
There are three recorded keys for each cue,
and three more where a separate minor version was needed.
This product is for educational purposes only and licensed
to the buyer/user solely. A share of the revenue is going
directly to the artists involved in this product.
Use your purchase email address to unlock the pdf file upon receipt.
COLLECTION COMPLETER OPTIONS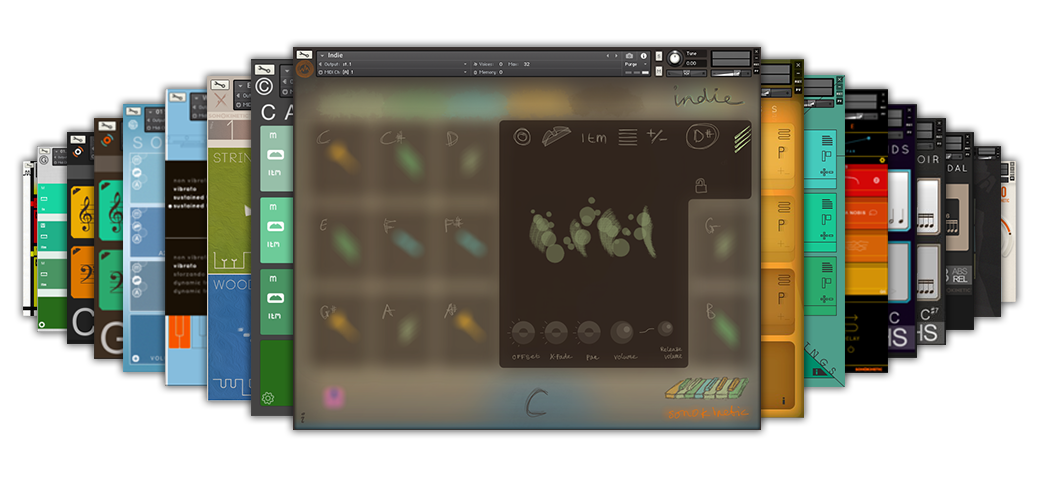 31% OFF the ORCHESTRAL COLLECTION
A Selection of The Latest Orchestral Phrase Libraries.
BANG FOR YOUR BUCK!
Learn More
> Help
A representative will follow-up with you as soon as possible,
typically within 48 hours of your request.
We often try to respond quicker than this,
but please note we are in a European Time Zone and
Sonokinetic offices and studios are opened on European business hours.