A Grandiose full Orchestral Phrase-based Cinematic Sample Library
---
+36K
Samples
44.1kHZ - 24BIT and 16BIT NCW format
16BIT - 36.000+ SAMPLES
24BIT - 36.000+ SAMPLES
16BIT - 12GB Uncompressed
24BIT - 23,4GB Uncompressed
Royalty and copyright free
content license
Instrument Patches
6 Instrument patches covering Strings, Brass, Percussion, Woodwinds, Choir and a Dynamic Builder tool for transitions.
Timestretching and tempo syncing using Native Instruments Time machine Pro 2 & Sonokinetics Intelligent Tempo Mapping
Sampled Instruments
52 Symphonic Strings :
Violins, Violas, Celli and Bassi
12 Symphonic Brass:
Tuba, Trombones, Horns and Trumpets
12 Woodwinds:
Bassoons, Clarinets, Oboes, Flutes and Piccolos
8 Percussionists:
Taiko, Symphonic Percussion
24 Choir Singers:
Soprani, Alti, Tenori and Bassi
Grosso Cinematic Trailer - Rescored
Learn from our videos & DEMOS
SONOKINETIC PROVIDES TUTORIALS AND VIDEO FEATURES TO HELP YOU GET ALL THE INFORMATION YOU NEED TO WORK WITH OUR TOOLS. EXPLORE OUR VIDEO CHANNELS FOR MORE IN-DEPTH INFORMATION ON OUR COMPOSING TOOLS.
Grosso Transition Builder
DAW CAST: Meadows of Etheldeen
DAW CAST: Le Avventura Grosso
Grosso 2.0 Update
Overview Tutorial
Setting up KONTAKT Library
About GROSSO
With Grosso, Sonokinetic BV is changing the paradigm for orchestral phrase-based instruments… again! Before our Minimal library, the level of control, whilst retaining the authentic sound that live recordings bring to the party, was unheard of. We have gotten so much positive feedback on Minimal that a 'sequel' was unavoidable. Mere sequels is not what we do though at Sonokinetic, so if you look at what Grosso brings to the table, you will see an evolved entity that is a homo-sapiens to Minimal's homo-erectus.
We have conceived this instrument from the ground up, using parts of the Minimal engine and reimagining many other things to accommodate for the added flexibility Grosso brings to the table. The main difference, apart from the obviously upbeat nature of the recorded material and the addition of a choir part and a taiko and non-melodic percussion section, is that we split out the orchestral sections into more parts. Strings and choir are split in low - mid - high, woodwinds and brass into low and high, percussion into taiko and more traditional orchestral percussion. All of these elements have been carefully composed to work well with all of the others, resulting in millions of possible combinations of sounds.
The nature and sheer amount of this raw material, and the added flexibility we needed to offer to you in an intuitive way, led us to a completely new interface style, and it made us split up the instrument into different Kontakt .nki's. Don't worry though, we have laid out the keyswitches in a way that still makes it possible to play this instrument 'Minimal-style' with the whole orchestra on one midi channel.
Grosso is a 12/8 feel library, and we have configured the engine to work in both 4/4 and 12/8 time signatures within your DAW. Though the instrument was conceived with trailer and action styles in mind, the finished product is capable of so much more, limited only by your imagination.
Check out our demo section to hear some of the compositions made by the incredibly talented composers in our beta team, inspired by Grosso. In fact, much of the early feedback we got from these guys included the word 'inspirational' as much as the word 'exceptional'. If there's ever an instrument that can help you get out of a funk when you need it most, it's this one. We have even included a randomiser button to provide you with different pattern combinations at the click of a button.
To top off the collection we have added a 'transition builder' instrument that is aimed at gluing parts together, and building up towards climaxes. It includes brass and woodwind crescendo chords, and recognises different chord types, like diminished, augmented and dominant 7th. Chords are constructed on the spot from a collection of recorded intervals. This builder instrument also contains percussion and taiko fills, and a fully playable multisampled taiko ensemble patch, both as an ensemble and individual drums. Please look at the video to see its capabilities in action.
We, at Sonokinetic BV, are very proud to introduce GROSSO to you, and can't wait to hear the amazing things you, our valued customer base, will produce with it.
Technical Overview
Click to enlarge
The Interface
On the left is the main interface for GROSSO. This particular interface is for the Strings instrument but each orchestral group has it's own separate Kontakt patch, each of which are colour coded: Strings, Woodwinds, Brass, Percussion and Choir all operate in exactly the same manner.
Presets
Whichever instrument you choose, GROSSO has 4 user presets, each of which can be assigned up to 3 different fields. The presets can be selected either by clicking them in the interface or with keyswitches.
Fields
Each field has a number of options which can be activated / deactivated. Regardless of which preset or field is in use, they all have the same options, outlined below.
Score View
The phrases in GROSSO are represented by graphics instead of actual notations. However, clicking on the score icon shown here will access the original notation
Version 2.0 - What's Changed?
Since we originally released Grosso we have built many improvements into the engine that enable even more flexibility with the onboard phrases. With version 2.0 of Grosso we bring all the functionality of our later libraries such as Capriccio and Sotto to the original Grosso:
New features:
Sample offset controls
Phrase picker previews
Release sample volume adjustment
Dedicated patches for Native Instruments Komplete Kontrol keyboards
MIDI drag and drop from the score window
Sample Offset
A new feature to Grosso V2.0 is the sample offset function.
Click the OFFSET legend at the bottom of the options interface to display the offset controls (shown here with the Strings instrument).
Each mark on the slider represents a quarter note, so the maximum and minimum values are one beat forwards and backwards relative to the original first beat of the phrase. Note that when you double or halve the tempo of a phrase, the offset value will stay relative to the host tempo, so relative to the phrase content tempo these values will change. e.g. when the tempo button is set to 2x all offset values are doubled.
You can use the sample offset function subtly, for very minor adjustments, to tighten up the timing of phrases relative to one another.
You can also use the function to make more dramatic timing changes by offsetting one or more fields by entire beats, resulting in more complex polyrhythms and syncopation.
Phrase Picker Previews
It is now possible to preview the phrases from within the phrase picker. Just click the speaker icon to the left of any phrase to hear an example of the phrase being played. If there are variations of the phrase then clicking multiple times on the speaker will cycle through the variations.
Release Sample Volume
From within the VOLUME option panel you now have the ability to change the volumes of the release samples for any phrase.
Native Instruments Komplete Kontrol
Grosso version 2.0 is compatible with Native Instruments Komplete Kontrol keyboards. If you are a user of one of these controller keyboards then you should download and use the Komplete Kontrol version of Grosso V2.0 from your users account at https://users.sonokinetic.net
Doing so will mean that key lights on your keyboard will show the corresponding colors of the Grosso keyswitches. In addition, the rotary controls of your keyboard will be automatically assigned to the most commonly used functions in Grosso.
MIDI Drag and Drop
The Grosso interface now features a drag MIDI button. Click the button, hold and drag into your DAW to paste the MIDI information from the Grosso score straight into track(s) in your DAW.
One or more MIDI tracks will be created in your DAW which correlate with the number of staves shown in the score view for that particular phrase. You can then assign your own virtual instruments to these tracks and edit the MIDI data in the normal way.
We've developed this to be a real time-saver when you need access to the MIDI data of Grosso outside of the instrument itself. Drag MIDI is useful for several things and gives you ultimate flexibility over the notation of the phrases within Grosso. For example, for doubling instruments, transposing or more complex editing. Drag MIDI also allows a quick and easy way for orchestrators to transfer Grosso's phrases to a score prepared for live players.
Please note that the MIDI is derived from the original score that the musicians performed, not from the performance itself. Therefore the MIDI will not reflect the nuances of play, and you will have to adjust it manually to get a perfect match with the played performance when doubling it with external instruments. Also note that the MIDI dragged cannot be used as an input for Grosso, you'll need other virtual instruments on different tracks in your DAW to play the dragged and dropped MIDI files.
Grosso Conductor Scores
GROSSO – Conductor score content:
1 Copy protected PDF file
164 pages (A4 format)
Full Rehearsal marks to easily find phrases from the kontakt version.
150 dpi resolution
Covers all phrases recorded for our "Grosso" library
Password to access the pdf file
This file has been locked. No copying options will be available. This score only covers cues in the keys recorded for the product.
Those are C, Eb and Ab for the major ones, and Cm, Em and Am in the cases where a minor version was needed.
This product is for educational purposes only and licensed to the buyer/user solely. A share of the revenue is going directly to the artists involved in this product.
Use your purchase email address to unlock the pdf file upon receipt.
Support and Manual Download
A representative will follow-up with you as soon as possible,
typically within 48 hours of your request.
We often try to respond quicker than this,
but please note we are in a European time zone and Sonokinetic offices
and studios are opened on European business hours.
please follow: support.sonokinetic.net to submit your support ticket
---
COLLECTION COMPLETER OPTIONS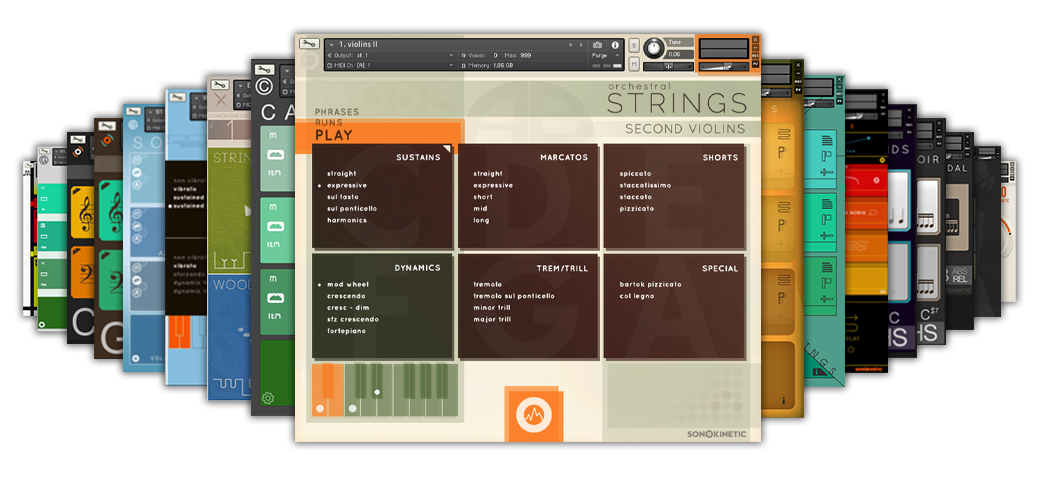 31% OFF the ORCHESTRAL COLLECTION
A Selection of The Latest Orchestral Phrase Libraries.
BANG FOR YOUR BUCK!
Learn More