A Large Pipe Church Organ Multi-sampled Library
---
+1.7K
Samples
44.1 kHz, 16 Bit wave format
1.750 Samples
1.05GB uncompressed
Royalty and copyright free
content license
Instrument Patches
Native Instruments Kontakt
1 Instrument Patch:
Toccata Full.nki
Sampled Instruments
1 original Pipe organ. 20 registers. (1975 Dutch Built Gebr.
Van Vulpen)
Learn from our videos & DEMOS
SONOKINETIC PROVIDES TUTORIALS AND VIDEO FEATURES TO HELP YOU GET ALL THE INFORMATION YOU NEED TO WORK WITH OUR TOOLS. EXPLORE OUR VIDEO CHANNELS FOR MORE IN-DEPTH INFORMATION ON OUR COMPOSING TOOLS.
DAW CAST:
BY KAIZAD & FIROZ PATEL
Setting up KONTAKT Library
About Toccata
Sonokinetic presents "Toccata". The largest and most epic instrument of all!
This instrument will literary blow you out of your socks. Weighing over 1 ton, constructed from over 1500 pipes, it has inspired the best composers for centuries. From J.S Bach to H. Zimmer all composers have been captured by the sheer power and intoxicating volume and tone colours of the pipe organ. This collection of clean recorded pipe organ samples has been intensively tuned and tweaked and de-noised to the utmost extent. Now working like a Swiss watch, this instrument will give you a wide range of colouring options due to its ingenious programming of 20 registers for the Kontakt sampling engine. Recorded at the Bartholomeus Basilika in The Netherlands this library will bring the raw power of this massive pipe organ to your keyboard.
Sonokinetic has established a name in user-friendly, very affordable, high quality audio and unique original sample libraries. Sonokinetic pushes the limit to capture the depth of the pipe organ with a wide selection of easy to use single registers and mixtures.
Technical Overview
Click to enlarge
The Interface
20 recorded pipe organ registers. The most commonly used registers for custom mixture combinations:
Prinzipal 16′
Gedeckt 8′
Prinzipal 8′
Gemshorn 4′
Trompete 8′
Klarinet 4′
Tutti registers
Holzgedeckt 8′
Prestant 4′
Holzrohrflöte 4′
Schwiegel 2′
Cymbel 1′ 3 st
Krummhorn 8′
Prinzipalbaß 16′
Violonbaß 16′
Subbaß 16′
Praestant 8′
Gedeckt 8′
Choralbaß 4′
Posaune 16′
Tutti: Recorded separately with all registers open. This is no combination of registers. This button will bypass all registers when activated. To activate press the button "Tutti" in the middle of the main view or the sustain pedal.
Impulse Response selection: by pressing the IR sphere another of the four available rooms is activated.
Available IR's
Basilika: Main church centered stereo IR
Chapel: Main Chapel centered stereo IR
Large Dome: Largest dome marble mosque (from Tigris & Euphrates)
Mosque: Mid size dome stone mosque (from the Tigris & Euphrates library)
Room Size slider: This compresses or stretches the impulse response in time. Click & drag on the right side of the sphere to adjust the blue level bar.
Wet Level: Controls the level of the original and processed signals. 0% = bypass 100% = full signal. Click & drag on the left side of the sphere to adjust the blue level bar.
Support and Manual Download
A representative will follow-up with you as soon as possible,
typically within 48 hours of your request.
We often try to respond quicker than this,
but please note we are in a European time zone and Sonokinetic offices
and studios are opened on European business hours.
please follow: support.sonokinetic.net to submit your support ticket
---
COLLECTION COMPLETER OPTIONS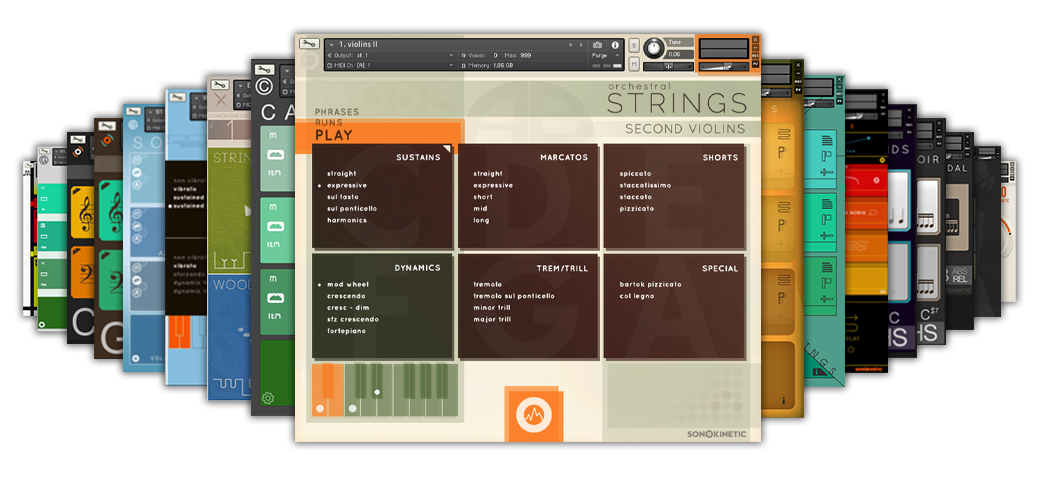 31% OFF the ORCHESTRAL COLLECTION
A Selection of The Latest Orchestral Phrase Libraries.
BANG FOR YOUR BUCK!
Learn More