Fairground Organ
---
Content
44.1kHZ - 24 Bit
147MB NCW Format
Royalty and copyright free content license
Format
Programmed for the latest version of Kontakt and Komplete Kontrol at the time of release, also compatible with the Free Kontakt Player
Instrument Patches
Native Instruments Kontakt
Carousel
Authentic & Corrected tuning
Realistic Bellow noise
Triple Trouble to create an ensemble organ
Custom designed interface
NKS with narration
Intelligent Purging System
Sampled Instruments
10 fairground organ registers
& percussion
Learn from our videos & DEMOS
SONOKINETIC PROVIDES TUTORIALS AND VIDEO FEATURES TO HELP YOU GET ALL THE INFORMATION YOU NEED TO WORK WITH OUR TOOLS. EXPLORE OUR VIDEO CHANNELS FOR MORE IN-DEPTH INFORMATION ON OUR COMPOSING TOOLS.
About Carousel
This is our famous Carousel library... rebooted.
10 years ago we took a trip to the funfair and recorded a passion project, the original fairground Carousel. This heritage instrument reminds us of childhood fun, candy floss and steam engines so we wanted to retain all of that joy and excitement within the virtual realm.
For 2020 we've dusted off those old recordings and brought them right up to date, remastering every single sample with cutting edge acoustic editing, tuning and de-noising. The interface has been given a complete overhaul too, so now you can easily tweak the volumes of each of the ten registers and move them up and down your keyboard. Of course we had to retain the round robin percussion and bellow noises too, for an experience as close to the real thing as possible.
Choose your favourite combinations of register and keyboard placement, to tailor the instrument to your own needs. We've also provided the option to throw the organ back a couple of hundred years and retain the original authentic tuning, in all it's rough-and-ready glory. For a truly colossal sound, engage the 'triple trouble' button which layers 3 notes to create a powerful wall of wind.
Technical Overview
The Interface
Below are two variations of the main interface for Carousel. Almost every aspect of the instrument can be changed either by clicking on the appropriate part of the interface or using hardware dials via NKS mapping. The interface will look slightly different depending if you choose to HIDE or SHOW the volume controls and meters.
"HIDE" MODE
"SHOW" MODE
Choosing Registers
Carousel can play 10 different registers of pipes. Each of these registers is represented in the interface by a graphic, with the name of the register and the corresponding key which are used to activate and deactivate that register. Shown here is the register for BOURDON and you can see the key switch that turns the register off and on is E.
Key switches for each register are velocity sensitive - press with a high velocity to turn a register on, and low velocity to turn it off.
CMD / CTRL + click to solo a single register and mute the rest.
Octave Offset
If you would like to move the playable ranges of the registers, use the two arrows at the top of each register button to offset the octave.
Depending on the register, the playable range can be moved from -3 to +3 octaves.
Tutti Mode
To Play all registers simultaneously, press the TUTTI button or use the key switch at MIDI C#0. This will activate all the pipes of the organ with a large playable range. When pressed again, all registers will reset to their previous states. The TUTTI key switch is velocity sensitive - press with a high velocity for tutti on, and low velocity for tutti off. Additionally, you can hold down the TUTTI key switch and then press the key switch for another register to solo that register.
Tuning
We sampled a historic fairground organ for Carousel and as such it has its own distinctive tuning. We kept this authentic tuning as an option with the AUTHENTIC button in the bottom right of the interface. Alternatively, to tune the organ to perfect pitch, press the CORRECTED button.
Triple Trouble
For a truly colossal sound, engage the TRIPLE TROUBLE button which creates a powerful wall of wind. This triples the number of notes played and introduces a slight detuning for each one. To revert to the regular playback press ORIGINAL.
Percussion
Our organ features a small range of percussion instruments with round robin samples. These can be played on MIDI keys C1, D1 & E1
Bellow Noise
If you'd like to hear authentic bellow noise from the Carousel, turn it on with MIDI key C#1, or off with D#1.
Register Volume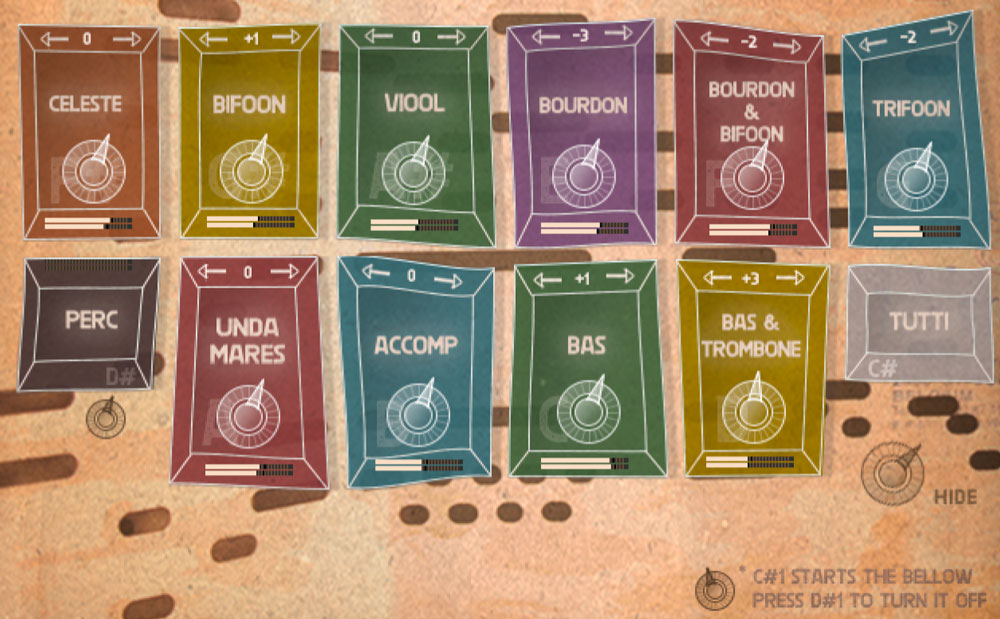 Towards the bottom right of the interface, press the SHOW button to reveal the volume controls and meters for each register.
Simply click and drag on a volume dial to change the volume of that register, including percussion and bellows noise.
CMD / CTRL + click will reset a dial to default position.
Playing Carousel
The basic method of playing Carousel is to play on the key ranges indicated below. These ranges will vary in color and trigger different registers depending on which registers you've turned on and whether or not you've chosen to offset the octaves (see page 8 for more details on this). Turn registers on and off with velocity sensitive key switches from C0 to B0B.
Much of the detail set out below has been explained in more detail earlier in the manual, such as percussion playing, bellow noise and choosing registers.
Support and Manual Download
A representative will follow-up with you as soon as possible,
typically within 48 hours of your request.
We often try to respond quicker than this,
but please note we are in a European time zone and Sonokinetic offices
and studios are opened on European business hours.
please follow: support.sonokinetic.net to submit your support ticket
---
COLLECTION COMPLETER OPTIONS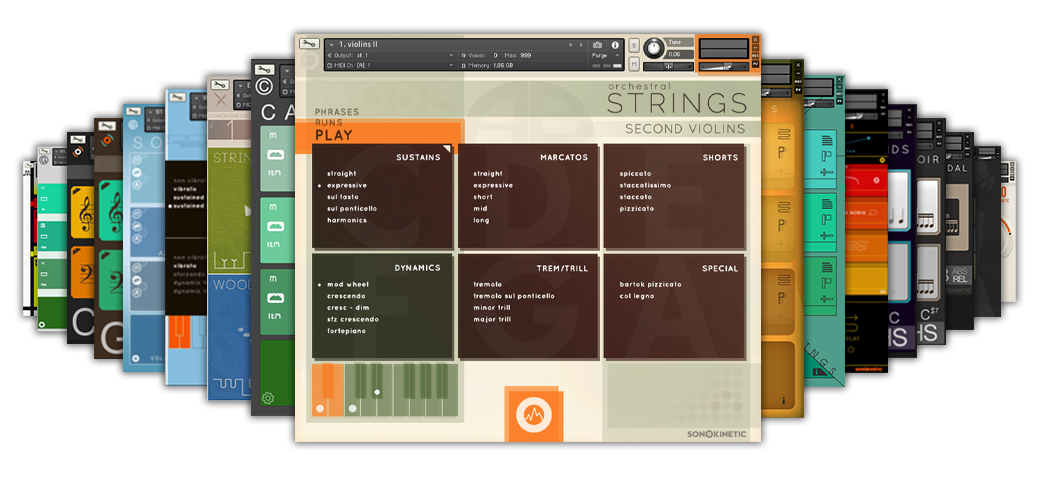 31% OFF the ORCHESTRAL COLLECTION
A Selection of The Latest Orchestral Phrase Libraries.
BANG FOR YOUR BUCK!
Learn More