The Strings that work for you
orchestral string section recorded in Divisi
16 Violins I (9+7) - 12 Violins II (7+5)
10 Violas (6+4) - 10 Celli (6+4)
8 Basses (5+3)
At its core, Orchestral Strings is a hugely capable full-divisi full-size Strings Section,
recorded with the fantastic Capellen Orchestra in Zlin, Czech Republic,
and edited with the utmost care to preserve all the details of the performances.
We covered all the most-used articulations in up to four velocities,
and we devised a 'shared tail' system for the shorts that provides you with more round robins
without increasing the memory load by too much.
ORCHESTRAL STRINGS ARTICULATIONS
SUSTAINS
Sustains Straight
Sustains Expressive
Sustains Sul Tasto
Sustains Ponticello
Sustains Harmonics
Sustains Straight LEGATO
Sustains Expressive LEGATO
Sustains Sul Tasto LEGATO
Sustains Ponticello LEGATO
MARCATOS
Marcatos Straight
Marcatos Expressive
Marcatos Short
Marcatos Mid
Marcatos Long
SHORTS
Shorts Spiccato
Shorts Staccatissimo
Shorts Staccato
Shorts Pizzicato
DYNAMICS
Dynamics Mod Wheel
Dynamics Crescendo
Dynamics Decrescendo
Dynamics Sforzato
Dynamics Fortepiano
SPECIALS
Special Tremolo
Special Trem Sul Pont
Special Minor Trill
Special Major Trill
Special Bartok Pizz
Special Col LegnO
CINEMATIC
INTRODUCTION
PLAY
RUNS
PHRASES
MIX
DIVISI
STACK
LEGATO
DYNAMICS
PROMO
MAIN LEGATO STATE
This determines whether legato is off, polyphonic (default) or monophonic. In polyphonic mode, the engine locates the closest note for each note in your harmony and determines which note to move from to your newly played note.
You trigger a run when you complete a set of two notes in this area, either by playing in a legato fashion or by holding the sustain pedal.
Play chords in the yellow area on the Kontakt keyboard, similar to how you would in a phrase based instrument.
44.1kHZ - 24BIT NCW format
97GB Compressed NCW Format
1 orchestral string section in Divisi:
16 Violins I (9+7)
12 Violins II (7+5)
10 Violas (6+4)
10 Celli (6+4)
8 Basses (5+3)
4 recorded microphone positions
Close
Decca tree
Wide
Balcony (Far)
...and a pre-mixed Tutti version
MULTI MODES ORCHESTRAL STRINGS SAMPLE LIBRARY
Play - multisampled
Runs - play runs between two notes
Phrases - record or drag in midi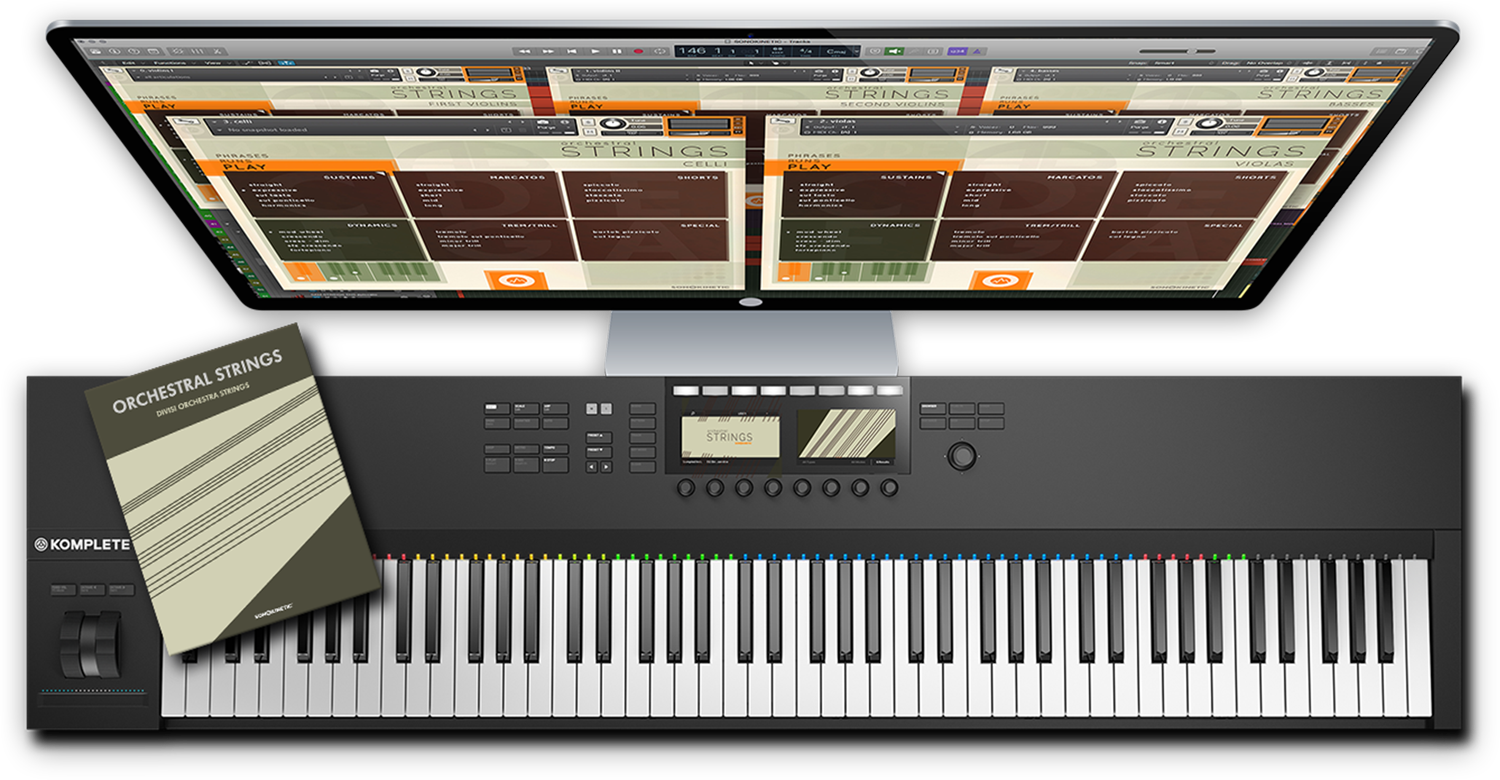 FOR NATIVE INSTRUMENTS KOMPLETE KONTROL NKS 1.5 < & KONTAKT + KONTAKT PLAYER 6.6 and up
COLLECTION COMPLETER OPTIONS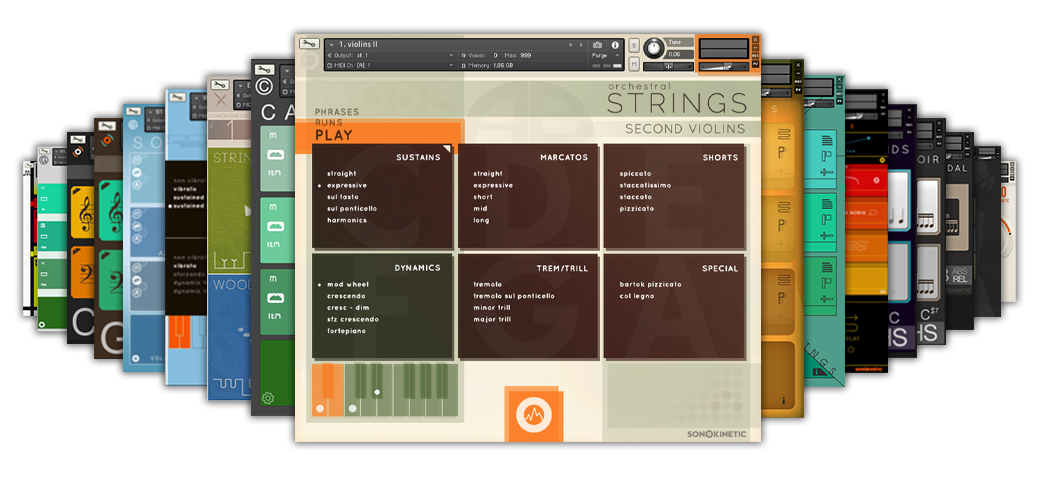 31% OFF the ORCHESTRAL COLLECTION
A Selection of The Latest Orchestral Phrase Libraries.
BANG FOR YOUR BUCK!
Learn More