A Vigorous full Orchestral Phrase-based Cinematic Sample Library
---
+38K
Samples
44.1kHZ - 24 Bit and 16 Bit NCW format
16BIT - 38.000+ SAMPLES
24BIT - 38.000+ SAMPLES
16BIT - 18,4GB Uncompressed
24BIT - 34,8GB Uncompressed
Royalty and copyright free
content license
Instrument Patches
6 instrument patches; Strings, Brass, Percussion, Woodwinds, Runs and Multisampled Percussion Ensemble.
Timestretching and Tempo Syncing using Native Instruments Time Machine Pro & Sonokinetic's Intelligent Tempo Mapping
Sampled Instruments
52 Symphonic Strings:
Violins, Viola, Celli and Bassi
12 Symphonic Brass:
Tuba, Trombones, Horns and Trumpets
12 Woodwinds:
Bassoons, Clarinets, Oboes, Flutes and Piccolos
8 Percussionists:
Taiko, Symphonic Percussion, Xylophone, Tubular Bells, Glockenspiel, Piano
Learn from our videos & DEMOS
SONOKINETIC PROVIDES TUTORIALS AND VIDEO FEATURES TO HELP YOU GET ALL THE INFORMATION YOU NEED TO WORK WITH OUR TOOLS. EXPLORE OUR VIDEO CHANNELS FOR MORE IN-DEPTH INFORMATION ON OUR COMPOSING TOOLS.
"The Capriccio
Re-Scored"
CINEMATIC
"The Capriccio"
TUTORIAL: MultiSampled Percussion
DAW CAST:
by Kaizad & Firoz Patel
DAW CAST:
by Sascha Knorr
Setting up KONTAKT Library
About CAPRICCIO
Capriccio is our biggest Orchestral collection yet, both in terms of physical size and in terms of sound, which is just...BIG!
We had conductor Petr Pololanik approach the limits of his Capellen orchestra for these recording sessions, and the resulting energy, drive and power really comes across in each and every sample. Each phrase has been carefully treated from conception through production to implementation in the final instrument, to make sure it would work as a whole, and be as widely usable as possible.
We say it is big, and the sound is big, but as you can hear from the demos the sound has a diverse range of uses and is only limited by your own imagination. You can use Capriccio as a base for your composition, or to complement your existing piece, using only bits and pieces. It can be really loud and awe-inspiring, or gently set the mood.
If you are familiar with our previous orchestral instrument 'Grosso', Capriccio's user interface should look quite familiar. The basic structure of the instrument is the same, using 4 presets each divided in 3 layers, but there are many innovations within Capriccio that will make working with this library even more intuitive and flexible. Highlights include the 'phrase offset' slider, separate volume setting for release tails and MIDI drag/drop from the score view in the interface, straight into your DAW.
With Capriccio we've brought phrase-based sampling bang up to date. Throw away your preconceptions of stiff one-shot samples and use the power of the Capriccio interface to harmonise, syncopate, offset and blend every one of the 38,000 samples. We've wrung every bit of creativity and flexibility out of these phrases and built a bespoke interface that will allow you to do the same.
Despite advancements in sampling technology, you simply can't beat the realism of live played phrases and orchestral patterns so our goal is to make these as playable as possible, like a real instrument, with the minimum of end-user programming. These instruments are meant to stimulate your creativity, and based on the feedback we are getting, that is exactly what they do.
Please watch our range of videos if you want to know more about Capriccio's inner workings. There are many 'hidden' features that will enhance your user experience a great deal if you know how to use them. For example, with Grosso we added 'bar sync' but for Capriccio we also added 'phrase offset'. These things are very complicated in terms of under-the-hood programming but we're sure that the intuitive interface makes it easy to realize the potential of features like this.
All phrases for Capriccio are composed in 4/4, with straight 8th and 16th notes.
We have also included a 'runs' instrument with strings and woodwinds runs, a gorgeous and eminently playable multisampled percussion patch and a melodic percussion instrument containing Xylophone, Glockenspiel, Tubular Bells and Piano phrases.
We, at Sonokinetic BV, are very proud to introduce Capriccio to you and can't wait to hear the amazing things you, our valued customer base, will produce with it.
Sonokinetic has established a name as one of the best value & quality sample producers and with this product we'd like to underline that statement. We stick with our unbeatable pricing module and high quality sampling.
Technical Overview
Click to enlarge
The Interface
On the left is the main interface for Capriccio. This particular interface is for the Strings instrument but each orchestral group has its own separate Kontakt patch, each of which are colour coded: Strings, Woodwinds, Brass, Percussion and Pitched Percussion. All operate in exactly the same manner.
Presets
Whichever instrument you choose, Capriccio has 4 user presets, each of which can be assigned up to 3 different fields. The presets can be selected either by clicking them in the interface or with keyswitches shown below.
Fields
Each field has a number of options which can be activated / deactivated. Regardless of which preset or field is in use, they all have the same options, outlined below.
Picking Phrases
TIP: You don't have to stick to the standard configurations of high, medium and low. It's possible to load more than one identical set. For example, you could load 3 sets of high strings and choose completely different patterns for each. The only limitation to this is that if you duplicate an identical set and pattern and variation in one instance of Capriccio, the MOD wheel volume and speed controls will not operate independently.
Randomize
Score View
The phrases in Capriccio are represented by graphics instead of actual notations. However, clicking on the score icon shown here will access the original notation.
This will open a large Score View, where you can view the currently selected phrase in a notated form. Brass is depicted here.
Clicking on the key signature graphics at the top of the window will change the displayed score key. Click the MA or mi icons to display either the major or minor variations of the phrase, where available.
A large contingent of phrases is gender neutral (so basically without thirds, sixths or sevenths).
You can either click on the 'x' or anywhere in the score area to return to the main window.
Drag MIDI
A feature new to Capriccio is the drag MIDI button. Click the button, hold and drag into your DAW to paste the MIDI information from the Capriccio score straight into a track in your DAW.
One or more MIDI tracks will be created in you DAW which correlate with the number of staves shown in the score view for that particular phrase. You can then assign your own virtual instruments to these tracks and edit the MIDI data in the normal way.
We've developed this to be a real time-saver when you need access to the MIDI data of Capriccio outside of the instrument itself. Drag MIDI is useful for several things and gives you ultimate flexibility over the notation of the phrases within Capriccio. For example, for doubling instruments, transposing or more complex editing. Drag MIDI also allows a quick and easy way for orchestrators to transfer Capriccio's phrases to a score prepared for live players.
Please note that the MIDI is derived from the original score that the musicians performed, not from the performance itself. Therefore the MIDI will not reflect the nuances of play, and you will have to adjust it manually to get a perfect match with the played performance when doubling it with external instruments. Also note that the MIDI dragged cannot be used as an input for Capriccio, you'll need other virtual instruments on different tracks in your DAW to play the dragged and dropped MIDI files.
Volume
Click the VOLUME legend at the bottom left of the options interface to display the volume controls (shown below with the Woodwinds instrument).
In each field, drag the white overlay line up and down to adjust the overall volume of that field.
Sample Offset
A new feature to Capriccio is the sample offset function.
Click the OFFSET legend at the bottom of the options interface to display the offset controls (shown below with the Pitched Percussion instrument).
Each mark on the slider represents a 16th note, so the maximum and minimum values are one beat forwards and backwards relative to the original first beat of the phrase. Note that when you double or halve the tempo of a phrase, the offset value will stay relative to the host tempo, so relative to the phrase content tempo these values will change. e.g. when the tempo button is set to 2x all offset values are doubled.
You can use the sample offset function subtly, for very minor adjustments, to tighten up the timing of phrases relative to one another.
You can also use the function to make more dramatic timing changes by offsetting one or more fields by entire beats, resulting in more complex patterns including polyrhythms and syncopation.
Capriccio Conductor Scores
CAPRICCIO – Conductor score content:
1 Copy protected PDF file
186 pages (A3 format)
Full Rehearsal marks to easily find phrases from the kontakt version.
150 dpi resolution
Covers all phrases recorded for our "Capriccio" library
Password to access the pdf file
This file has been locked. No copying options will be available. This score only covers cues in the keys recorded for the product.
Those are C, Eb and Ab for the major ones, and Cm, Em and Am in the cases where a minor version was needed.
This product is for educational purposes only and licensed to the buyer/user solely. A share of the revenue is going directly to the artists involved in this product.
Use your purchase email address to unlock the pdf file upon receipt.
Support and Manual Download
A representative will follow-up with you as soon as possible,
typically within 48 hours of your request.
We often try to respond quicker than this,
but please note we are in a European time zone and Sonokinetic offices
and studios are opened on European business hours.
please follow: support.sonokinetic.net to submit your support ticket
---
COLLECTION COMPLETER OPTIONS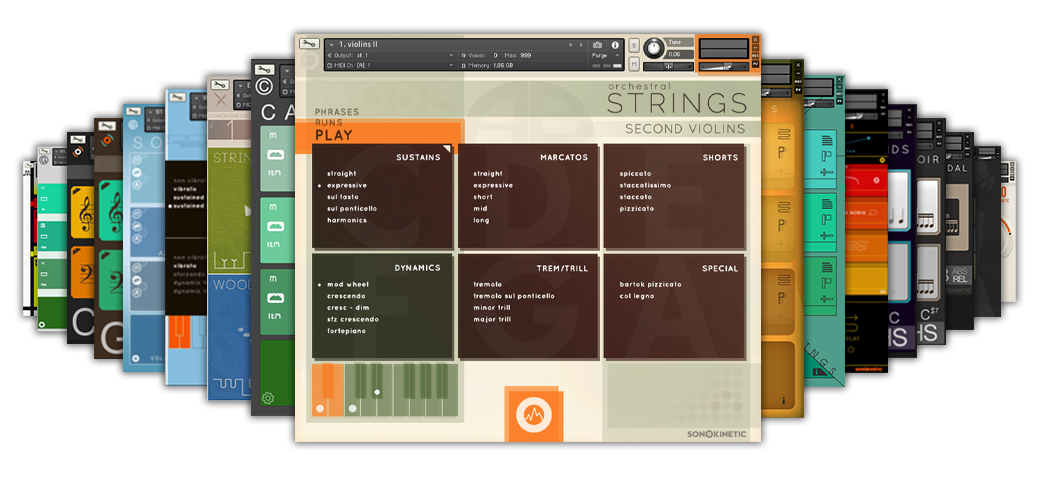 31% OFF the ORCHESTRAL COLLECTION
A Selection of The Latest Orchestral Phrase Libraries.
BANG FOR YOUR BUCK!
Learn More