Cartoon and Animation Sound Effect Instruments Sample Library
---
+1.8K
Samples
44.1kHZ - 24BIT AIF format
1800+ Samples
1,40GB Uncompressed
Royalty and copyright free
content license
Instrument Patches
2 Instrument Patch:
Bells & Whistles for Kontakt 5.1>
Bells & Whistles for Komplete Kontrol
Sampled Instruments
20 categories of
bell, whistle, percussion and FX instruments:
Wah Tubes, Big Siren, Bullfrog, Crash cymbal, Cricket, Crocodile, Duck, Flexatone, Galaxy Shaker, Galaxy Stick, Water Shaker, Water Triangle, Nightingale, Rattle, Crow, Kukuk, Nar, Plastic Whistle &
Slide Whistle
Learn from our videos & DEMOS
SONOKINETIC PROVIDES TUTORIALS AND VIDEO FEATURES TO HELP YOU GET ALL THE INFORMATION YOU NEED TO WORK WITH OUR TOOLS. EXPLORE OUR VIDEO CHANNELS FOR MORE IN-DEPTH INFORMATION ON OUR COMPOSING TOOLS.
Bells & Whistles Tutorial
Setting up KONTAKT Library
About Bells & Whistles
Crash! Bang! Wallop!
For this production, we've thrown our toys out of the pram… and sampled them all! Here's a treasure trove of bells, whistles, rattles, special percussion, animal calls and lots of other crazy musical toys that we could get our hands on.
Our love of all things animated has inspired Bells & Whistles and within the library you'll find many familiar effects, which have been heard for decades in vintage film animation, TV stop motion and everything in between. We've taken notes from Tom & Jerry, Mickey & Goofy and Daffy & Bugs and created a crazy cartoon interface with the sounds to match. Our fun-house of source instruments include classic slide whistle, duck call, football rattle and flexatone, to name but a few. These have been categorized into groups and articulations and the tonal whistles have been multi-sampled and turned into playable instruments too.
We, at Sonokinetic BV, are very proud to introduce Bells & Whistles to you and can't wait to hear the amazing things you, our valued customer, will produce with it.
Sonokinetic has established a name as one of the best value & quality sample producers and with this product we'd like to underline that statement. We undercut our pricing module and then some and still offer the high quality sampling you have come to expect from us.
Technical Overview
Click to enlarge
The Interface
The GUI for Bells & Whistles consists of several sections to control instrument selection, reverb, microphone mixing and EQ.
The Instruments
This library contains not only bell and whistle sounds but a whole variety of percussive and tonal / atonal special effect instruments…
Wah Tubes, Big Siren, Bullfrog, Crash cymbal, Cricket, Crocodile, Duck, Flexatone, Galaxy Shaker, Galaxy Stick, Water Shaker, Water Triangle, Nightingale, Rattle, Crow, Kukuk, Nar, Plastic Whistle & Slide Whistle.
Playing Bells & Whistles
The basic method of playing Bells & Whistles is to play notes within ranges of the coloured notes. You will find notes coloured either yellow, blue or green. The range varies depending on the chosen instrument.
The yellow range indicates a multi-sampled pitched version of the instrument, playable on your keyboard.
The blue / green ranges indicate effects and other tonal / atonal sounds. Articulations are grouped together for clarity and these are shown by alternating blue and green groups.
Instrument Selection
It's easy to select an instrument from the available 20 different ones. Just click the left / right arrows shown here and the instrument will be displayed. We've sampled not only bells and whistles, but a variety of other crazy instruments including rattles, percussion and other effects.
Grab Bag Mode
Click on the robot to activate "grab bag mode". This assigns a random selection of instruments across the entire key range. Each time you click you'll get a different random selection.
EQ and Microphone Mixing
Choose either EQ or microphone mixing mode by clicking on the legend at the bottom right of the interface.
EQ Controls
The EQ section, shown here, allows you to quickly and simply tweak the levels of the high, mid and low frequencies. Simply click and drag. Cmd / ctrl click to reset.
Microphone Mixing
The instruments of Bells & Whistles were sampled using 3 different mic positions: Close, Middle and Far. This section the interface gives you control over the mixing of those positions. Click-drag the dials to control the the levels. Ctrl / cmd click to reset the dials to default.
Note that you can set completely independent microphone mix settings for each instrument - and these settings will be remembered each time you return to a particular instrument.
Reverb
Bells & Whistles comes preloaded with a convolution reverb sampled from an actual space to simulate a realistic playing environment. This control makes it easy to quickly dial in some realistic reverb without too much fuss. Adjust the wetness (amount) and size of the reverb by click-dragging on the dials shown here. Ctrl / cmd click to reset the levels to default.
From the Kontakt configuration window (shown below) you can adjust many other aspects of the reverb including wet/dry levels, pre-delay, dampening and width. You can also swap out the preloaded impulse response for one of your own.
Support and Manual Download
A representative will follow-up with you as soon as possible,
typically within 48 hours of your request.
We often try to respond quicker than this,
but please note we are in a European time zone and Sonokinetic offices
and studios are opened on European business hours.
please follow: support.sonokinetic.net to submit your support ticket
---
COLLECTION COMPLETER OPTIONS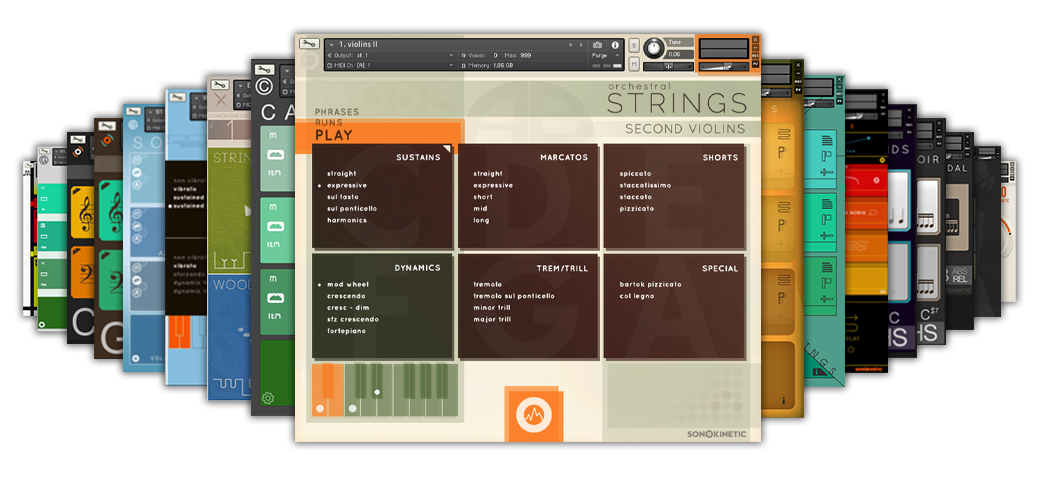 31% OFF the ORCHESTRAL COLLECTION
A Selection of The Latest Orchestral Phrase Libraries.
BANG FOR YOUR BUCK!
Learn More