Traditional Brazilian Percussion Instruments
---
+2.2K
Samples
44.1kHZ - 24BIT NCW format
2.200+ Samples
1.67GB uncompressed
Royalty and copyright free
content license
Instrument Patches
Native Instruments Kontakt
1 instrument Patch:
Percussao Do Brasil.nki
Sampled Instruments
16 Traditional Brazilian Instruments: Claves, Rio Shaker, Cax, Cowbell, Agogo Bell, Guiro, Chocalhos, Whistle, Bass Surdo, Timbal, Caisse, Pandeiro, Surdo, Caxia, Repinique
Learn from our videos & DEMOS
SONOKINETIC PROVIDES TUTORIALS AND VIDEO FEATURES TO HELP YOU GET ALL THE INFORMATION YOU NEED TO WORK WITH OUR TOOLS. EXPLORE OUR VIDEO CHANNELS FOR MORE IN-DEPTH INFORMATION ON OUR COMPOSING TOOLS.
Percussao Do Brasil Promo
Percussao Do Brasil Tutorial
Setting up KONTAKT Library
---
COLLECTION COMPLETER OPTIONS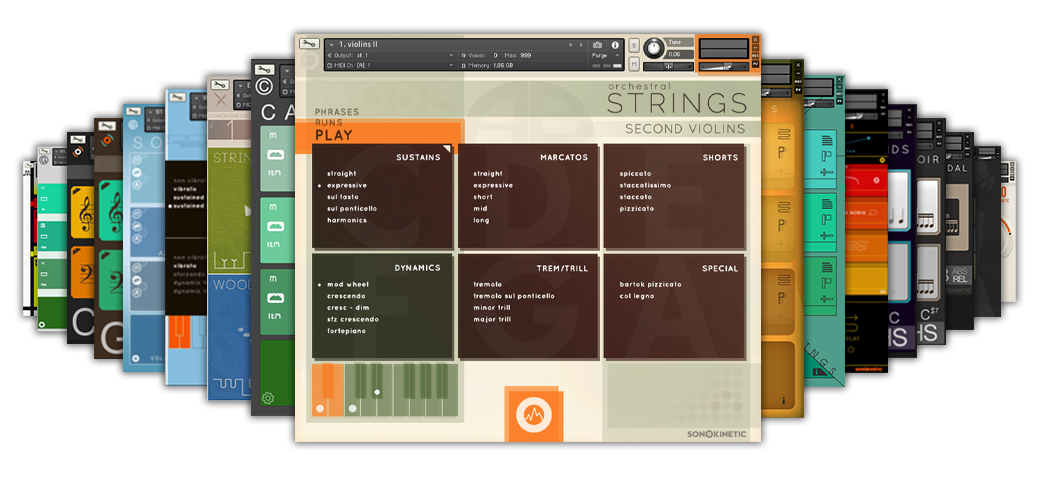 31% OFF the ORCHESTRAL COLLECTION
A Selection of The Latest Orchestral Phrase Libraries.
BANG FOR YOUR BUCK!
Learn More