Shock and Awe Cinematic Orchestral FX & TEXTURES
The sound of ORCHESTRAL angst
Orchestral strings, woodwinds, brass & PERCUSSION
FULL ORCHESTRAL ATONAL & DISSONANT TENSION CREATOR
Designed for Komplete kontrol
AN INTENSE SAMPLE LIBRARY
The sounds of horror, terror and suspense are as old as cinema itself,
from Herrmann's "Psycho" & "Vertigo" to Goldsmith's "Alien" & "The Omen".
These dissonant strings, stabbing brass sections, skittering percussion and
aleatoric woodwinds are as synonymous to the genres, making our hair stand on end and forcing us to avert our eyes from the screen.
Many other composers such as Karlheinz Stockhausen and Charles Ives have been our inspiration too, creating a palette of sounds which provide both inspiration and intimidation.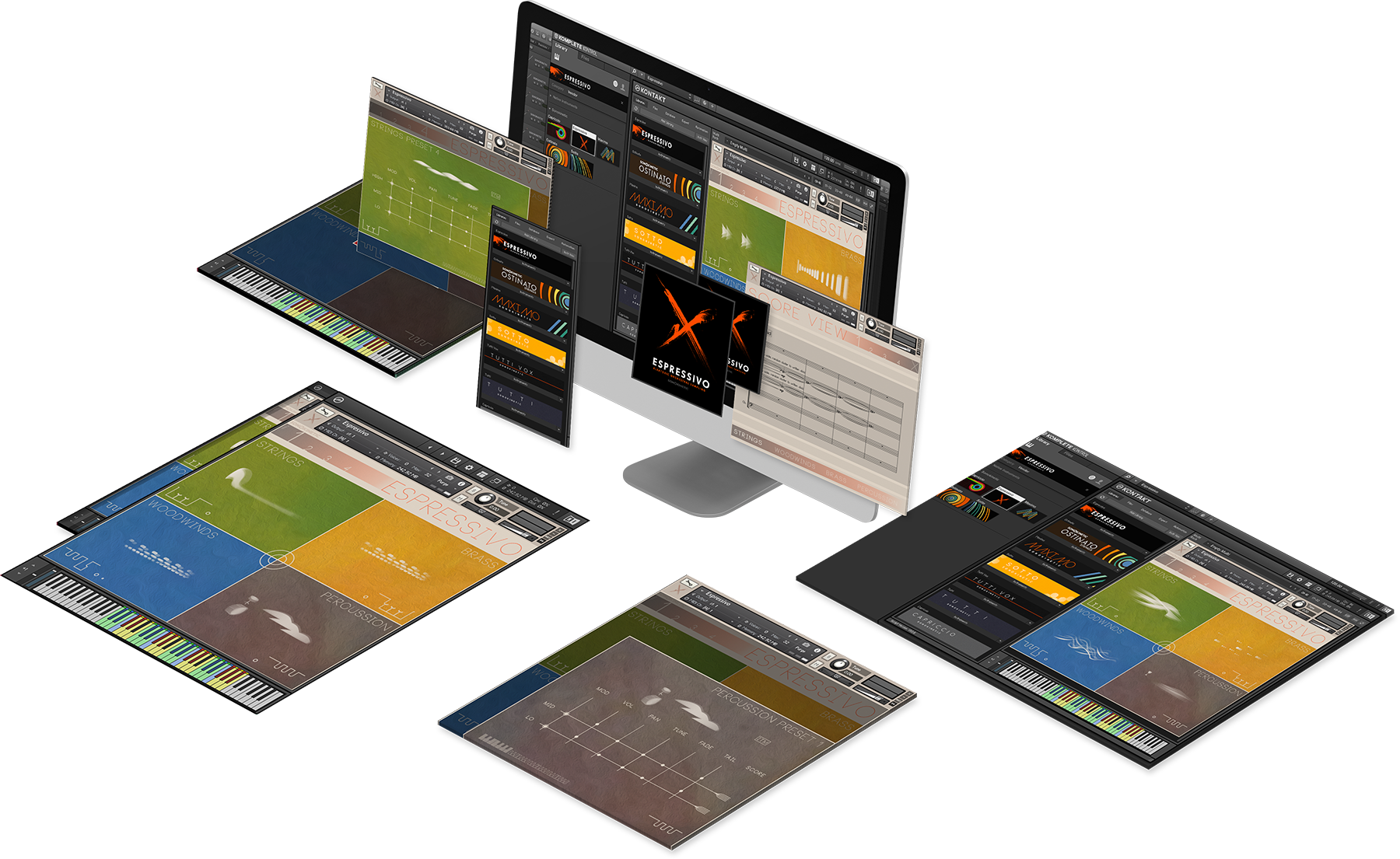 CINEMATIC
Overview
In Detail
Playthrough
DAW CAST
"The Force Returns"
DAW CAST
"Stellar Catastrophe"
44.1kHZ - 16/24BIT NCW format
16BIT - 13.600+ SAMPLES
24BIT - 13.600+ SAMPLES
Custom designed interface with score display
Time Machine Pro capability
Purging system
Full and LITE PATCHES
Randomization - whole instrument and per-section
4 recorded orchestral sections
Strings 60 players
Woodwinds 19 players
Brass 22 players
Percussion 3 players
FOR NATIVE INSTRUMENTS KOMPLETE KONTROL NKS 1.5 > & KONTAKT + KONTAKT PLAYER 5.1 >
Buy the Conductor Scores
Espressivo Conductor score content:
Espressivo Score
1 Copy protected PDF file
158 pages (A4 format)
Full Rehearsal marks to easily find phrases from the kontakt version.
150 dpi resolution
Covers all phrases recorded for our "Espressivo" library
Password to access the pdf file
This file has been locked. No copying options will be available.
This product is for educational purposes only and licensed
to the buyer/user solely. A share of the revenue is going
directly to the artists involved in this product.
Use your purchase email address to unlock the pdf file upon receipt.
COLLECTION COMPLETER OPTIONS
31% OFF the ORCHESTRAL COLLECTION
A Selection of The Latest Orchestral Phrase Libraries.
BANG FOR YOUR BUCK!
Learn More